Villa Layout
Designed by leading Asian architect Channa Daswatte (a protégé of the late and prolific Geoffrey Bawa) Saffron & Blue is all about spaces and moods and places and hues, with a mix of bright, sunny areas and cool, secluded nooks and crannies.
All the living and sleeping accommodation is contained in a simple, rectangular, two-storey structure, cleverly arranged to provide huge open living space alongside intimate lounge and dining rooms and serene, private, bedrooms and bathrooms.  Almost every room looks out over the lawned gardens and the brilliant blue pool – some with views of the ocean just beyond.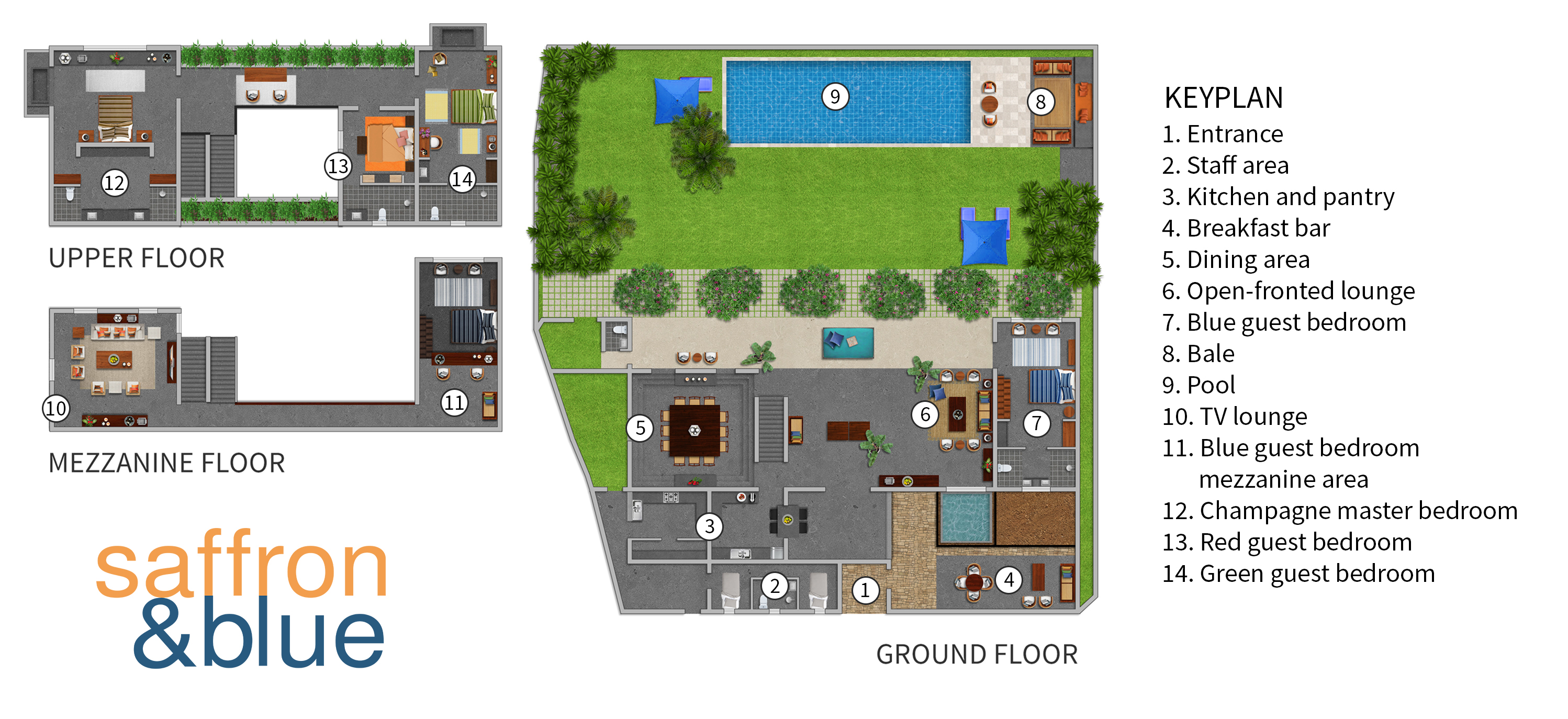 Download in high resolution
Living Areas
Crossing Saffron & Blue's threshold, you come first to  a tastefully furnished entrance courtyard with a reflecting pool where you can make your holiday wish and set afloat the tropical blooms presented to you upon arrival. This Sri Lankan styled courtyard is a peaceful spot to sit quietly and immerse yourself in that book you've been waiting to read, and the round table here is just the place for a game of cards or a board game later in the day.
At one end of the entrance pavilion is the breakfast bar, with outdoor and indoor sections.  Relax here with your morning coffee and chat to the staff as they prepare your breakfast.
A stunning triple-height, open-fronted lounge forms the heart of Saffron & Blue – a delightful indoor-outdoor space supported at the front by stout round pillars that echo the graceful coconut palms punctuating the gardens. A bold palette of grey, blue and yellow brings this room to life, while the freestanding staircase at one end is a sculpture in itself, conceptualised by the architect to complement the building's simple architecture.  This lounge is sparsely but stylishly furnished, with a large built-in daybed cushioned in bright blue centre-front, and a sitting area arranged below leading Sri-Lankan artist, Jagath Ravindra's, tall and bold tryptic expression of 'the awakening'.
At one end of the ground floor is an altogether different space – the intimate, low-ceilinged dining room, with its impressive square 12-seater table and views out to the gardens via tall windows, front and side.
A split level above, between the dining room and the master bedroom, is an elegant TV lounge furnished with a soft sofa and wicker-framed armchairs.  Browns, oranges, ambers and creams create a warm ambiance in this comfortable room. These same autumnal colours are reflected in an eight-panel oil painting by contemporary Sri Lankan Artist Pramith Geekiyanage, which captures the power of man.
Within the villa's privately walled and lushly planted gardens, to one end of the swimming pool, is a furnished terrace and a shady pool lounge with bench seating and a large built-in daybed – all topped with 'saffron' cushions.  At the other end of the pool, sun loungers stretch out below a bright blue sunbrella.
Saffron & Blue's four bedrooms are all handsomely furnished with dark-wood antiques and vibrant original artwork. Floors are of polished concrete, topped with rugs to match each room's unique colour scheme. Ceilings are high and wood-beamed.  All rooms are ensuite and cooled by both air-conditioners and ceiling fans.
Champagne Master Bedroom
On the upper floor, offering garden views and glimpses of the ocean through wide front windows, 'Champagne' is a serene room with polished concrete floor and fittings, and a high timber-beamed ceiling. The room is furnished with a king-size bed and a pair of comfortable armchairs either side of a small round table. Glass doors to one side lead to a romantic, alfresco jacuzzi bathtub and in the very spacious ensuite bathroom are a double sink unit and separate stalls for the shower and WC.
Blue Guest Bedroom
This blue-themed ground-floor room faces the pool and garden through windows stretching its full width. The room is furnished with a king-size bed and a table and chair set. An intriguing 'cupboard' staircase leads up to a mezzanine area furnished with a sofa bed, which makes the Blue Room ideal for families – kids will love having their own loft den! The room's ensuite bathroom features a large dressing and vanity area.
Green Guest Bedroom
Decorated in relaxing green hues, this upper-floor room is furnished with a king-size  bed, desk and chairs. A large alfresco jacuzzi tub with partial ocean views occupies a private balcony at the front of the room and an ensuite bathroom with dressing area lies to the rear.
Red Guest Bedroom
Next to the Green Room is the slightly smaller, but bright and colourful Red Room. Furnished with a queen-size bed, this room overlooks the garden from its ensuite bathroom and features a wide window panel that looks down into the airy living room below.